Shaun Hopkins life sentence for 'brutal' double rape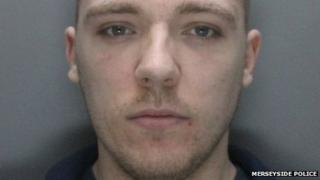 A man has been jailed for life for two "brutal" rapes in Liverpool which police said involved "extreme violence" against his victims.
Shaun Hopkins, 27, of no fixed address, was told he must serve a minimum of nine years by Liverpool Crown Court.
A jury found him guilty of the rape of a 37-year-old woman which happened in April 2005.
He pleaded guilty to the other rape and two sexual assaults on a 19-year-old woman, on 5 October last year.
'Heard and believed'
Det Insp Kathy Goodwin said: "Hopkins used extreme violence against his victims both during and after the brutal sexual assaults he inflicted on them."
Both women gave the police permission to use extracts from their impact statements to show other victims what they have gone through.
The 37-year-old victim said it had taken her "a long time to meet another man and trust him".
"Now [Hopkins] is in prison I actually feel relieved that finally I have been heard and believed," she added.
Hopkins' 19-year-old victim said she "seriously thought I was going to die".
She said: "I didn't really sleep properly for about a month afterwards."