Liverpool WW1 military fallen unearthed on plaque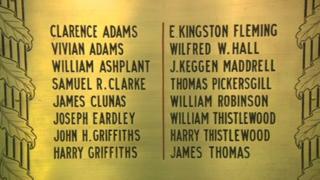 A number of men whose names are not recorded or honoured as having died in WW1, have been found on a plaque unearthed in a Liverpool garden.
The plaque from Toxteth's St Peter's Church was found in the garden of its former caretaker.
Several of the names are not in the city's Hall of Remembrance.
Lord Mayor Gary Millar said the find would allow the men listed to "take their rightful place in the history books".
The plaque listed sixteen men, five of whom - William Asplant, Samuel R Clarke, James Clunas, Harry Thistlewood and E Kingston Fleming - were not included in the hall, which honours those who died in either World War.
A Liverpool City Council spokeswoman said two further names - Harry Griffiths and James Thomas - needed to be clarified, as multiple versions of the same name are already listed in the hall.
She said it was believed the plaque was taken from the church for safekeeping sometime before 2007 when the church and its land were sold to make way for apartments.
She added it had been found in the garden of Harry Gardam, "a loyal servant of the Methodist church" who died in 2010.
Mr Millar said he wanted the families of the men to come forward and claim their relatives' place in the hall.
"It is all too easy to forget the sacrifices made by those who fought for our freedom but this is the perfect opportunity for relatives to do their duty, come forward and ensure the names of all of these men live on."