Anfield stadium plans welcomed by fans but cast a shadow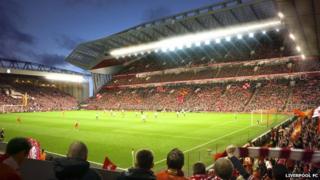 As Liverpool fans dare to dream of a first league title in 24 years the club has revealed its lofty plans for Anfield.
The club is thinking big with its latest £100m plan to expand the ground, which is now on show.
An exhibition at the club for residents and businesses revealed designs for a giant three-tier Main Stand, increasing the overall capacity of the stadium to about 54,000.
A second phase could later redevelop the Anfield Road Stand, taking the stadium's capacity to 59,000.
Bob Humphries, chairman of the Liverpool Football Club Supporters Committee, said the plans don't go far enough.
"I think we have the potential to get 60,000 or even 70,000 here," he said.
"I really hope this is just the start and they keep building it up. The owners have shown real class on this issue.
"The team are performing really well and it's fantastic to see such positive things happening both on and off the pitch."
But the project has cast something of a shadow on homes close to the famous ground.
Families have raised fears that the huge expansion of the Main Stand could block sunlight to nearby streets.
Alan Blundell, of Skerries Road, Anfield, has been a season ticket holder for more than 40 years.
The 74-year-old said: "I think the light issue is a valid one. It's not so bad for us, but if you live within sight of the Main Stand, it's going to be a problem.
"The other thing is litter. There's already a lot of litter on match days. We've come to accept it because we've had it for years. But if there are another 8,000 fans coming every week, we'd like some reassurances that there'll be someone to clean up the mess."
The plans would also create a huge outdoor concourse area, a new club shop, and a specially-designed cloister to house the Hillsborough Memorial.
Tim White, 35, lives in Birkenhead but his wife's parents live in Anfield and the family attend matches together.
He said: "It's going to increase the number of people coming but there's no train line and not enough parking to cope. It's very cramped on match days.
"I've heard there could be plans to only let people with match tickets enter certain areas, which would be a good idea. But we need to make sure this is properly handled."
However, Mr White said the expansion plans would be good news for supporters who struggle to buy tickets - with a current season ticket waiting list of about 28,000.
"The waiting list puts people off," he said. "So hopefully this will free up a lot of space."
A public consultation was held at the stadium on Thursday for people to view the plans.
If planning permission is granted, construction work on the proposed Main Stand could begin early next year and it could be completed in time for the 2016/17 season.
Working in partnership with Liverpool City Council, the project has seen dozens of nearby houses bought up to make way for the expansion, with final negotiations now taking place with the owners of the remaining properties.
Residents hope the plan will boost the local economy and increase footfall for local businesses.
Andy Gee, a surveyor, from Walton, said: "It's the knock-on effect for the wider area that's important. I've never understood why this hasn't happened earlier. It will be great for all the nearby pubs and shops."
Gareth Richards travelled to Anfield from Cwmbran in South Wales on Thursday for a stadium tour with his father, Sid Richards, who was celebrating his 65th birthday.
He said: "At the moment we've been going to Cardiff to watch Liverpool games as we can never get hold of home tickets. Maybe we will have a better chance soon."