Liverpool museums close for job cuts talks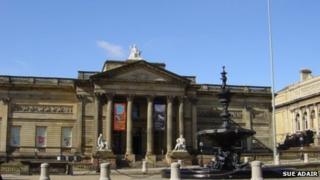 Seven museums in Liverpool have been closed for the day while talks are held with staff about funding and job cuts.
National Museums Liverpool (NML) has shut all its sites, which include the Walker Art Gallery, to discuss the planned axing of 37 posts overall.
Since 2010, 94 staff have left through voluntary redundancy because of government funding cuts, but further savings need to be made by 2015.
The Public and Commercial Services (PCS) union said visitors will suffer.
Clara Paillard, PCS branch chairwoman at NML, said: "Life without arts and culture would be very dull and we call for all the people of Merseyside to support us and our forthcoming campaign to establish a rescue plan for the Liverpool museums and to defend access to our fantastic venues."
Projects shelved
NML, which currently employs about 550 staff, said 66 posts will be cut in total but a number of alternative positions will be created, resulting in a total loss of 37.
It said administration and senior posts will be axed but it was hoping to avoid compulsory redundancies.
Prospect union negotiator Jez Stewart said: "We want to ensure that anyone who leaves does so on a voluntary basis. Prospect and PCS are implacably opposed to any compulsory redundancies."
NML sites are the Walker Art Gallery, World Museum, Museum of Liverpool, Sudley House, Merseyside Maritime Museum, International Slavery Museum and Lady Lever Art Gallery.
They will open as usual on Friday.
Since 2012, NML has cut spending by £3m a year and said it had shelved projects and reduced activities at its venues.
The organisation is not permitted by central government to sell collections or introduce admission charges.
The NML apologised for any inconvenience caused by the closure but said it was a one-off event and there were no plans to close any of the venues on a regular basis.