Alder Hey robot allows children in hospital to communicate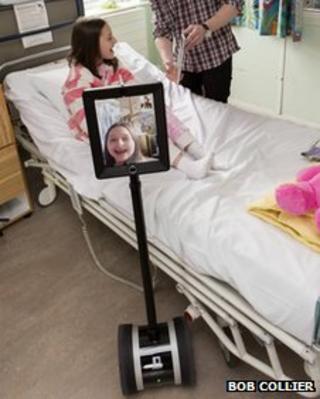 A robot has been used in a children's ward to allow patients to communicate with each other and with staff.
Children and young people at Alder Hey hospital in Liverpool were able to control where the robot went, with the face of the person in charge shown on a screen via a webcam.
The hospital is building a children's health park, to open in 2015.
The robot was part of a series of trials to test how children's stays at Alder Hey could be improved.
'Patient's perspective'
Patients and their families have already come up with other ideas for the new development, the hospital said, including children creating their own personal 'avatar' prior to arrival in hospital for use on a new entertainment and technology system.
The hospital launched a £50m appeal last year to make it a "world-class" centre for care.
Former patient Jack Hutton said: "It's been fantastic to see how technology can be used in a children's hospital like Alder Hey."
The 19-year-old, who is chair of Alder Hey Children and Young People's Forum, said it has been "exciting" to work with doctors and nurses at the hospital and give them "a patient's perspective".
David Powell, from Alder Hey Children's Health Park said: "Our patients and families have been right at the heart of the design for the new hospital so it makes perfect sense to involve them in decisions about the technical systems which will all help improve a patient's experience."
Alder Hey, which is one of four stand alone children's hospitals in the UK, provides care for over 275,000 children and young people every year.