Liverpool port's £100m Chinese crane investment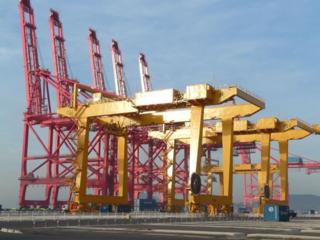 The developers of a new container terminal at the Port of Liverpool have invested £100m in 17 Chinese cranes.
The Megamax cranes will be used at the Liverpool2 container port - due to open at the end of 2015 on the River Mersey.
They will be semi-automated and remotely controlled and enable the port to simultaneously handle two large ships in the port.
Peel Port Group (PPG) said it was "a significant investment for the long term".
Chief executive Mark Whitworth said the cranes would "dramatically cut transfer time from port to road or rail, maximising our productivity".
Last year, dredging began as part of PPG's expansion of the Port of Liverpool that will deepen the Mersey approach channel to 52ft (16m).
The facility will add half a million containers to the Port of Liverpool every year, taking its annual capacity to two million.
Liverpool2 will allow vessels carrying up to 13,500 containers to call at the Port of Liverpool. Currently, it's limited to accepting ships with fewer than 3,500 containers.