Esther McVey apology for tweet during Hillsborough service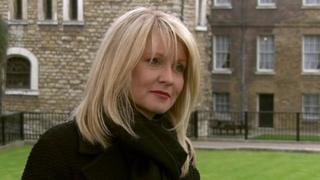 The Conservative minister Esther McVey has apologised for a tweet attacking the Labour Party during the Hillsborough memorial service.
A tweet from the account of the MP for Wirral West linked to a press release and said: "Wirral Labour can't be trusted" at 15:51 GMT on Tuesday.
Posts on the social media site claimed the timing showed a lack of respect.
The MP said she did not send the tweet but took "full responsibility" as it was sent from her account.
She later tweeted: "Really regret the mistiming of local election press release. Apologies."
The memorial service for the 96 people who died in the tragedy was held at Anfield on Tuesday afternoon.
Relatives of those who died, as well as fans, players and club officials, were among the 24,000 who attended.
Ms McVey said she did not attend the memorial service due to "government work commitments" ahead of the release of employment figures.
The MP has not disclosed who sent the tweet.