Liverpool theatre group climbs tall ship mast for New York trip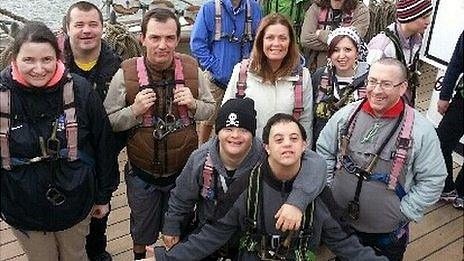 A performing arts company for young adults with learning disabilities have done a sponsored climb of the mast of a tall ship in Liverpool.
Company of Friends climbed the Stavros S Niarchos in Huskisson Dock to raise money for a trip to perform at the Young Adults Institute in New York.
It has been invited to an international conference on designing the future for people with learning disabilities.
Organiser Paul Goetzee said the group found it "slightly scary but fun".
Mr Goetzee who teaches Company of Friends said the climb of the mast which is 148ft (45m) high had raised about £1,000.
He said going to New York and to perform to hundreds of people at the conference is a "chance of a lifetime" for the members of the theatre group.
"They are all very passionate about performing and come into their own when they are on stage."
Mr Goetzee who is a writer and director added that the conference which starts on 26 April will "widen the horizons" of the performers.
The climb was done in partnership with the Tall Ship Youth Trust, a registered sail training charity for young people aged between 12-25.
The trust said the Stavros S Niarchos which was commissioned in 2000 is the largest brig built in Britain for over a century.
Related Internet Links
The BBC is not responsible for the content of external sites.