Southport butcher creates Scotch Creme Egg for Easter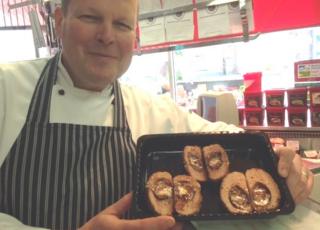 A butcher has created a "treat" for Easter by wrapping a Cadbury's Creme Egg in sausage meat and covering his creation in a lime and chilli coating.
Graham Eyes is selling the dubious delicacy at his butcher's shop in Southport, Merseyside.
Mr Eyes said: "It looks like one [a traditional Scotch egg] but that's as far as the similarity goes.
"They are cooked in the oven for 30 minutes. [They are] still nice cold," said the innovative butcher.
"We were thinking of a follow-on from last year's [Cadbury] Mini Eggs sausages," he added.
Perhaps surprisingly, BBC Radio Merseyside received mostly positive responses when it took to the streets of Southport to find out what local gourmets made of the unusual Easter offering.
One woman assessed the eggs as "gorgeous" - before taking a second helping and upgrading her view to "phenomenal".
Another shopper said: "It's quite good actually," before denting her credentials as an egg sampler of discernment by admitting she "likes anything".