Hillsborough inquests: Sarah and Victoria Hicks' parents "lost everything"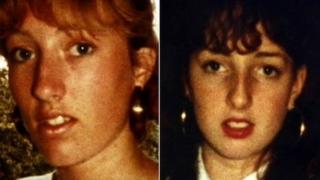 A father whose "beautiful" daughters died at the Hillsborough disaster "lost everything - the present, future and any purpose", a coroner has heard.
Sarah Hicks, 19, and her sister Victoria, 15, were two of 96 Liverpool fans who died after a crush at the FA Cup semi-final in April 1989.
Their parents Trevor and Jenni Hicks read statements about them at the inquests in Warrington.
Campaigners Mr and Ms Hicks divorced in 1991 "as a result of Hillsborough".
'Buried together'
Mr Hicks, president of the Hillsborough Family Support Group, said: "The loss of a child is one of the worst things that can happen to a parent.
"It's not that losing two is twice as bad, it's that you lose everything - the present, future and any purpose."
He said: "They lived together, died together in horrific circumstances, supporting the team they loved. They are buried together. Need I say more?"
Mr and Ms Hicks read their statements on what would have been Sarah's 44th birthday.
Sarah was a student in Liverpool, having turned down a scholarship to Imperial College London and a place at Oxford University.
Victoria, or Vicky, wanted to be a sports reporter and wrote her own Liverpool match reports, which were discovered after her death at the family home in Pinner, north west London.
Ms Hicks said: "Sarah, throughout it, all you always, always looked after your little sister, even at the end.
"Sarah and Vicky, you were two bright, beautiful, intelligent young women."
"I left you as you went into a football ground and a few hours later you were dead," she added.
Christened Bon Jovi
Coroner Lord Justice Goldring has described the disaster "the worst ever at a British sports stadium".
It unfolded on 15 April during Liverpool's match against Nottingham Forest at Sheffield Wednesday's ground.
Earlier, the inquest heard from Patricia Donnelly whose son Lee Nichol, from Bootle, died aged 14.
Ms Donnelly said: "Lee loved Jon Bon Jovi. He was christened Lee Jon Bon Jovi just before his life support machine was switched off."
His organs were donated after his death.
Lee's mother said she was "so very proud of him".
The mother of Colin Ashcroft, from Warrington, who died aged 19 said he had overcome learning difficulties "to be as independent as he was able".
Janet Russell recalled that her "well-liked" son" had been becoming thoughtful about other people and much more level-headed".
He had a "great future ahead of him", she said.
'He is missed'
The jury also heard about Simon Bell, 17, from Liverpool, from a statement written by his father Christopher Bell.
The teenager's sister, Fiona Lyons, who read the statement, said: "Sometimes we think something told him to make the most of his time."
"Simon lived for the day and it would have been great to see what he would have become. He was loved, and he is missed."
Derrick Godwin, from Gloucester, who died aged 24, would have stood in front of the crush barrier, the jury heard.
His mother Margaret Godwin said: "His dad used to say 'always stand in front of the crush barrier', which we're sure he always did."
Derrick "got hooked" on Liverpool FC after watching a cup match with Oxford United. The next year he became a season ticket holder, Ms Godwin said.
The inquest heard from Stephen Wright whose brother Graham, from Liverpool, died aged 17.
Stephen Wright said: "Graham was always with me. Every childhood memory is with him.
'Special relationship'
"Graham and I were both very passionate about our club [Liverpool] from an early age."
"Graham and his girlfriend Janet were inseparable. They wore two halves of the same locket...then came the 15th April 1989," he added.
Joan Hope spoke about her youngest son John McBrien, from Holywell, Flintshire in north Wales, who was 18.
She said: "Even today the pain of losing John has not gone away.
"His death was completely devastating to our family - he was such an amazing son and brother and we all miss him deeply."
Hillsborough's oldest victim, war veteran Gerard Baron, 67, was described as a "damn good bloke" by his son Gordon.
Mr Baron Jr said his father was an intelligent, hard-working, family man.
The jury heard about Peter Thompson, 30, from Widnes in Cheshire, who worked as an engineer.
His brother Denis said: "As the eldest he was expected to be an example to his younger brothers, a role which seemed to come naturally to him."
The inquests, set to last a year, were ordered after new evidence revealed by the Hillsborough Independent Panel led to the original inquest verdicts being quashed.
The background statements are the first time the court has heard how the disaster affected individual families.
The inquest has been adjourned until 22 April.