Hillsborough inquests: Disaster 'ripped pages from life'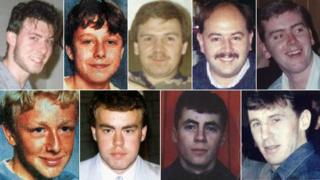 The Hillsborough disaster "ripped out the pages" of a 23-year-old man's life, his sister has told his inquest.
Andrew Sefton was one of 96 fans who died after a crush at the ground during Liverpool's FA Cup semi-final match against Nottingham Forest in 1989.
Julie Fallon said her family "no longer have an inkling what life without Hillsborough looks like".
Statements from the relatives of all 96 victims are being heard at their inquests in Warrington.
Ms Fallon said the Skelmersdale security officer's life had been "like a book".
"There's a title, an introduction, a description of the characters - then someone ripped out the rest of the pages.
"Hillsborough made an incompleteness which continues to be, for my family, the central, longest and most overriding topic of the last 25 years and of our lives.
"We no longer have an inkling what life without Hillsborough looks like and ironically neither does my brother."
Police 'turned their backs'
Louise Brookes, from Bromsgrove in Worcestershire, told the court about her brother Andrew, who was "the apple of my mum's eye" and who had never been in trouble with the police.
"My mum said 'the only time Andrew ever brought the police was when they brought his clothes home in a plastic bag [after his death].
"Andrew was brought up to respect the police. When he needed them most, they literally turned their backs on him."
She said after his death "the whole dynamics" of the family changed. Her mother later died of cancer, then "Dad just shut himself away", she said.
"I didn't just lose my brother on 15 April 1989, I lost my parents too. The whole Brookes family died that day."
Earlier, Stephen Clark delivered his mother Jacqueline Gilchrist's tribute to his father, Joseph Clark.
He told the hearing she said life had "never been the same since he died that horrible day".
"Our lives changed and I never really got on with my life. I am still the same to this day," she said in her statement.
Mr Clark was one of several relatives who was moved to tears while reading what the families have called "pen portraits".
Amy McGlone also cried as she read her mother Irene's words about her father, Alan McGlone, a Liverpool machine repairer she said had "loved being a dad".
In her statement, Mrs McGlone said her husband had played with his daughters on the street before going to Hillsborough and that the family had been due to go to a party when he returned.
Instead, she said she put her daughters to bed and Amy asked "Mummy, will you tell Daddy to come in and wake us up when he gets home?"
"I am still waiting to wake my girls up out of this nightmare and send their daddy into them," she said.
'World at his feet'
Michael Brady spoke about his brother Paul, a 21-year-old refrigeration engineer from Liverpool who had a "very bubbly and outgoing personality".
He said his brother had been "a people person", who excelled at working with his hands and had loved football, fishing and his job.
"He was fun-loving, the joker in our family, always smiling and a joy to be around," he said.
A statement was read from the recently-deceased father of Stuart Thompson, before his sibling Martin spoke of his "brother and friend" who had "the world at his feet at the time of his death" and was "determined to be a success".
He said that when he died, the 17-year-old "wasn't a child but he wasn't yet an adult. He didn't have time to blossom."
Speaking about her son David, Jennifer Birtle said he liked music and had been to the Glastonbury festival, but that "once David could run, there was always a football attached to his foot".
"David became an ardent fan of Liverpool Football Club. Sadly that decision was to cost him his life," she said.
Mrs Birtle, who was in Oman when she heard about the disaster.
She said she had "had to listen to two ex-pats reading the paper and saying 'oh, the police say it was hooligans' as if that was OK then, that it was their fault".
She added that her family was "owed an explanation sooner rather than later of how and why David died that day".
The final statement of the day came from the mother of Carl and Nicholas Hewitt, brothers from Leicester who had travelled to Hillsborough on a supporters' club bus.
Brenda Hewitt said her "boys" were "always together [and] together always", who "loved football and were season ticket holders".
The inquests, set to last a year, were ordered after new evidence revealed by the Hillsborough Independent Panel led to the original inquest verdicts being quashed.
The background statements are the first time the court has heard how the disaster affected individual families.
The inquest has been adjourned until Thursday.