Gang who smuggled cocaine in beef shipment jailed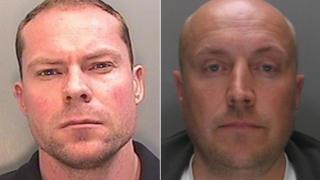 A gang caught trying to smuggle 400kg (880lbs) of cocaine into the UK in a shipment of beef have been jailed.
Sixteen bags of the drug were found in a container at Tilbury Docks in Essex in May. They were replaced with bricks to allow police to root out the gang.
Ian Stanton, Anthony Short, Francis Oakford, James Mossman and Gary Keating were jailed at Liverpool Crown Court.
National Crime Agency (NCA) branch commander Greg McKenna said the drugs could have "caused devastating damage".
The drugs were found in the container at Tilbury Docks in a container from Argentina on 8 May 2013.
NCA officers swapped the drugs for bricks in order to not arouse suspicion and allowed the shipment to continue to its destination, a cold storage unit in Wigan, under surveillance.
Sexual violence
After one of Stanton's associates dumped two holdalls after picking them up from the unit and finding the bricks, officers discovered the gang suspected the drugs had been stolen by a rival gang.
The court heard NCA officers watched Stanton meet other members of the gang at Aintree Retail Park in Liverpool to discuss the use of physical and sexual violence against anyone with information about the perceived theft.
After the other men were arrested, Stanton was captured at a house in Rotterdam by Dutch Police and extradited to face charges.
Stanton, 43, of Merrilocks Road, Liverpool; Mossman, 38, of Delaware Crescent, Liverpool; and Keating, 29, of The Mews, Dannette Hey, Stockbridge Village, all pleaded guilty to conspiracy to supply cocaine.
Stanton was sentenced to 12 years in prison, Mossman to seven years and four months and Keating to eight years.
Short, 40, of Westhead Road, Croston in Lancashire, was found guilty of conspiracy to import cocaine and given 22 years in prison.
Oakford, 47, of Barons Hey in Liverpool, pleaded guilty to conspiracy to blackmail and was jailed for four years and nine months.
Liam Dooney, who was also charged with conspiracy to import class A drugs in relation to the smuggling, was found not guilty at trial.