Hillsborough inquests: Victim, 16, had concerns over stadium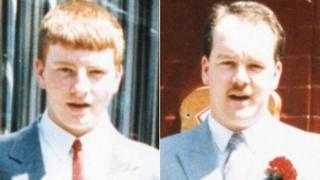 A boy who died in the Hillsborough disaster said: "Oh no, not that stadium again," the inquest jury has heard.
Martin Kevin Traynor, 16, raised his concerns to his brother Christopher, 26, who said: "Don't worry, I will be there with you," their sister Theresa Arrowsmith said.
The brothers were two of the 96 people who died following a crush at the FA Cup semi-final in April 1989.
All the families are giving portraits of the victims at the inquests.
Crushing in 1988
During the inquest opening, the coroner recalled a crushing incident at Hillsborough in 1981 during a Tottenham Hotspur and Wolverhampton Wanderers match, in which 38 people were injured.
A year before the disaster, there were reports of crushing in 1988 at another FA Cup semi-final between Liverpool and Nottingham Forest, also at Hillsborough.
There were no reports of serious injuries, the inquest in Warrington has heard.
Kevin Traynor, as he was known, was worried about the safety of the stadium, Mrs Arrowsmith said.
She said he had attended the 1988 game and had "voiced concerns about the crushing that took place".
Mr Traynor was the youngest of five children, who "was a very caring, selfless person", the inquest was told.
His brother Christopher had been hoping to start a family with his wife Elizabeth who had suffered a miscarriage, the jury heard.
Mrs Arrowsmith, who spoke on behalf of her brothers and Elizabeth, said: "Hillsborough cut short any hope of having a family.
"His passing left a huge gap in all our lives," she added.
Coroner Lord Justice Goldring has described the 1989 disaster "the worst ever at a British sports stadium".
It unfolded on 15 April during Liverpool's match against Nottingham Forest at Sheffield Wednesday's ground.
Never met baby
Sarah Brown was six months pregnant when her husband Steven Brown, 25, from Wrexham, died.
She told the inquest: "I can honestly say that he loved me with a passion that I never knew existed - the dedication and commitment that he showed towards me left me giddy.
"When I found out that I was pregnant and that his dreams were coming true, he was over the moon and full of pride.
"He never got the chance to meet and greet his new baby. There's no words to describe that feeling.
"I've tried my best to shower her with the daddy's love that he would have done," Mrs Brown added.
She said it was "love at first sight" when they went on a date together aged 16.
Mrs Brown, whose daughter Samantha was born in July 1989, said: "Not only was I grieving for me but for her too."
'Trauma'
Henry Charles Rogers was 17 when he died, his mother Veronica said.
She told the inquest her son was "straightforward and easy-going" and "it was impossible to be cross with him".
Mrs Rogers said she and her husband Steven wanted to go to Australia but had to delay their plans because of Hillsborough.
They left in October 1989 and then returned home when Henry's older brother Adam died.
"Sadly, the trauma of surviving Hillsborough, the loss of his younger brother and the onset of childhood diabetes resulted in his lonely death as we arrived in Sydney," Mrs Rogers said.
'Heartbreaking day'
Lord Justice Goldring has ruled that "pen portrait" biographies of each of the 96 victims should form the first section of evidence at the inquests.
The inquest heard about father of two Eric Hankin, from Liverpool, who died aged 33.
His daughter Lynsey Hankin said her father's death had left a "big, giant-shaped hole" in her life.
She said: "He made us hold our noses as we drove past Goodison Park and on the way past Anfield we would salute.
"It's still something I do with my own children."
The hearing was next told about Gary Collins. His brother Ian said it was "excruciating" knowing the disaster could have been prevented.
It was the "most heartbreaking day of our lives" when Mr Collins, from Liverpool, died aged 22, his brother said.
Mr Collins said: "It breaks our hearts that Gary never had the opportunity to become a father himself."
The jury was told Francis McAllister had been saved from drowning in a boating lake during a family holiday in Wales.
'Massive void'
His brother Mark said: "Our father died nine years after Hillsborough, always regretting that he had not been on hand to save his son one more time."
Mr McAllister, originally from Liverpool, died aged 27.
A tribute was paid to Nicholas Joynes, also 27, from St Helens, who had an unsuccessful trial with Liverpool FC.
His brother Paul said: "His death has left a massive void in our family and we miss him deeply."
A personal statement was read out about John Anderson, from Liverpool, who died aged 62.
His son Brian said: "We wouldn't have been considered rich in financial terms, but we were very rich as we had a loving home with a dad that placed us first, before everything else."
The inquests, set to last a year, were ordered after new evidence revealed by the Hillsborough Independent Panel led to the original inquest verdicts being quashed.
The inquest has been adjourned until Tuesday.