Mersey Tunnel users stage toll rise protest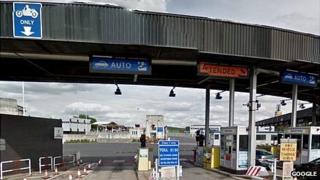 A demonstration has taken place outside the Mersey Tunnel on the eve of the latest toll price rise.
Members of the Mersey Tunnel Users Association (MTUA) protested between 10:00 and 12:00 BST at the Wirral side of the Wallasey Tunnel.
The group said it believed it was important to show Merseytravel it would not accept the toll changes "quietly".
Merseytravel said the 10p toll rise was below inflation. Fees are now £1.70 for cash paying car drivers.
Motorists who use the Fast Tag scheme to pay by direct debit will now be charged the equivalent of £1.40 a trip.
MTUA said it would continue lobbying MPs and do everything possible to stop any further rises. Its long term aim is to scrap the tolls.
Tolls were frozen in the financial year 2012/13.
The tunnels are used by more than 25 million vehicles a year, according to the transport authority.