Corrie star Barbara Knox's daughter gets driving ban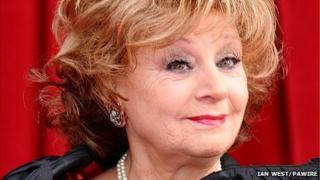 A Coronation Street actor's daughter had nearly three times the legal blood alcohol limit, a court heard.
Maxine Ashcroft, 56, whose mother Barbara Knox plays Rita Tanner in the TV soap, was banned from driving for two years, by Macclesfield magistrates.
Ashcroft was stopped by police while driving a relative home from a family gathering in Alderley Edge, Cheshire.
Her mother went to the police station to visit her and was also arrested on suspicion of drink driving.
Ashcroft, of Kencot, Lechlade, Gloucestershire, admitted drink driving and was also fined £960 and ordered to pay £85 costs.
The 56-year-old was stopped by officers in Knutsford, Cheshire on the evening of 10 March and her breath smelt of alcohol.
She was breathalysed at Middlewich police station and gave a reading of 97 micrograms of alcohol per 100 ml of breath - 35 micrograms being the legal limit.
Ms Knox, 80, arrived later at the police station and was arrested and bailed pending further inquiries.
'Error of judgement'
Nick Freeman, defending Ashcroft, told the court his client was "thoroughly contrite and ashamed".
"She made a terrible error of judgement which is going to have terrible consequences for her. This was a classic case of alcohol anaesthetising good sense," he said.
Mr Freeman asked for a lower ban as the divorcee had recently moved from Cheshire to a rural location where the nearest shop was six miles away.
"I don't like to use the word recluse but literally her driving licence is her lifeblood. She does not have anyone to drive for her," said Mr Freeman.
Chairman of the bench Graham Hall said the bench imposed a fine after taking into account Ashcroft's remorse, her personal circumstances and her good character.