Alder Hey Hospital claims CQC report hit funding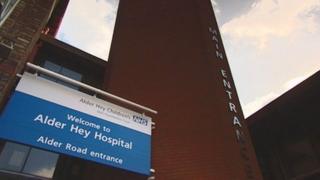 Alder Hey Children's Hospital has claimed it may lose a £4m donation after a damning report by inspectors.
The Care Quality Commission (CQC) placed the hospital in a "potentially high risk" category over standards including patient safety.
Alder Hey said the report was based on "inaccurate information" and was published a week after a £30m appeal was launched, creating a "PR disaster".
The CQC said it did not brief the media and stood by its findings.
Letters between the Liverpool-based hospital and the CQC were released after a Freedom of Information request from the BBC.
In a statement, the Alder Hey Children's NHS Trust said: "The Trust publicly expressed its disappointment and surprise to have been included in the CQC's Band 1 list which was published in October 2013 and in March 2014, given that none of the indicators flag any concerns whatsoever about patient safety or quality of care."
It added: "We have shared with the CQC our concerns regarding aspects of the methodology behind this new rating system and continue to work closely with them on this."
In the past six months, the CQC has warned about potential risks at the hospital.
Its most recent report on the hospital, released last month, said Alder Hey had failed to meet four out of five safety standards.
'Fundamental flaws'
Alder Hey Children's NHS Foundation Trust wrote to the CQC on 1 November 2013 arguing the commission's highest priority for safety monitoring, or band one, was based on "inaccurate and unfair data".
Chairman Sir David Henshaw claimed there were "fundamental flaws" in the information underpinning the report and called for an apology.
He said some information "had not been checked" with regional colleagues who would have "quickly pointed out the errors".
Sir David stated in the letter the "potential damage" to the hospital's reputation "cannot be underestimated".
He said: "It was a public relations disaster given that the week before we had launched our £30m charity appeal.
"It gets worse. In light of [media] coverage one of our patrons has indicated that a sponsor who was about to donate £4m for essential equipment in our new hospital may not now proceed given the coverage."
On 14 November, the CQC replied stating the media was advised "against distorting the story".
CQC Chief Executive David Behan said the regulator's approach was "both transparent and suitable for its purpose" and used a "range of expertise" to produce its findings.
In the letter, he wrote: "We will not take any action or making [sic] any amendments to the indicators or associated risk banding for Alder Hey."
Mr Behan said the CQC makes its judgements on all trusts based on a combination of inspections, local information and the views of people and organisations using the services.
"We published the results… to promote greater understanding of our work," he added.