Mersey Gateway bridge project underway next month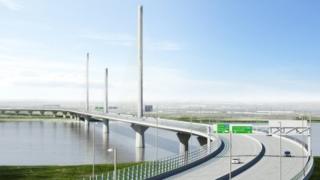 The building of a second bridge over the River Mersey will start next month.
Halton Borough Council and the Merseylink consortium said contracts and funding had now been secured, meaning work can now begin.
The six-lane toll bridge, linking Runcorn and Widnes, is intended to ease congestion on Silver Jubilee Bridge.
The existing bridge, which has been in place since 1961, will be tolled as part of the project. The second crossing is expected to open in 2017.
Initial costs of construction and buying the land was £600m but the budget for the total cost of construction and 30-year operating and maintenance of the project was £2bn, the partners said.
'Long journey'
In 2011, the government said it would pay up to £470m towards the cost of building the bridge.
Merseylink consortium said it will create the equivalent of 470 full-time jobs.
Rob Polhill, leader of Halton Borough Council, said it had been a "tremendously long journey".
He said: "I would like to pay tribute to the hard work of everyone who has got us to this point and delivered millions of pounds of savings on the project."