Liverpool mayor in St Luke's 'bombed out church' sale pledge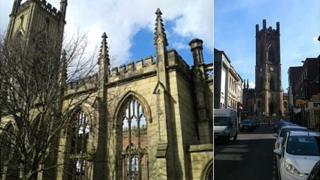 The mayor of Liverpool has claimed the bombed out St Luke's church in the city is not for sale.
Joe Anderson said the city's council was not looking at "redeveloping" or "knocking down" the building which was severely damaged in a 1941 air raid.
On Monday he said talks were under way about the site's future, with the council "willing to look at proposals".
The walls and gates of the church are Grade II listed.
More than 22,000 people have signed an online petition to preserve the church in its current state.
'Not going anywhere'
Mr Anderson said: "It has got to be maintained and looked after and if we can use people and work with people in a partnership that protects the integrity of the building then we should look at that.
"It's not going to change to the extent that people will be angry and upset about it. It's not going to go anywhere, we want to protect it."
He added: "If we can use the inside of the building in a way that protects it and brings in revenue to further protect it then that's what we will do."
The council said some suitable uses for the site have fallen through in the past "due to a lack of investment".
St Luke's Church was built in 1831 by John Foster and John Foster Jr and continues to stand as a memorial to those killed in the war.