Soldiers build fence for Rhys Jones Centre in Liverpool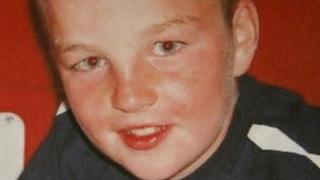 Soldiers have put up a new fence around a community centre built in memory of murdered Liverpool schoolboy Rhys Jones.
A lack of funding meant the fence at the £500,000 Rhys Jones Centre in Croxteth Park was never completed before it opened last September.
Eleven-year-old Rhys was shot as he made his way home from football practice on 22 August 2007.
His parents thanked the 36 Engineer Regiment personnel who volunteered.
The Army has provided construction equipment as well as 12 soldiers to build the fence at the centre in Langley Close over the course of the week.
'Rewarding'
Trustee Ken Stewart, who has been overseeing some of the work, said: "I really can't thank the Army and in particular these 12 men enough.
"Without them we never would have been able to finish this job."
Mr Stewart said Rhys' mother Melanie and father Stephen were grateful for the soldiers' help.
Lt Dan Bruton said: "We do this kind of work on operations, but it's particularly rewarding to be able to contribute our skills and knowledge to a community here at home."
Half the cost of the community centre came from the Rhys Jones Memorial Fund, with the remainder of the money and land donated by Liverpool City Council.
In 2008, Sean Mercer, 18, was jailed for murdering Rhys and told he would serve at least 22 years before being eligible for parole.