Unison stage Liverpool protest over government funding cuts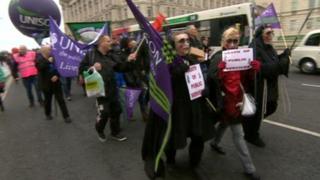 Protesters marched through Liverpool city centre to demonstrate against government funding cuts in the region.
Hundreds turned out for the union led march, which set off from the Pier Head earlier and ended with a rally.
Organisers Unison claim funding cuts are affecting services for vulnerable people such as support for the elderly.
Liverpool City Council agreed £156m of cuts earlier this month. The prime minister has rejected claims that Liverpool is being treated unfairly.
Unison has claimed authorities in the North West have been hit by funding cuts greater than the national average.
Glen Williams from Unison said: "Just give us [a] fair distribution of the money."