Cricket club to host Liverpool Hope tennis contest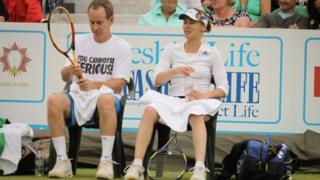 A 207-year-old cricket club in Merseyside has been chosen to host a new tennis competition for players warming up before Wimbledon.
Liverpool Hope International Tennis Tournament will be held at Liverpool Cricket Club, 60 years after the last tennis competition took place there.
The tournament has attracted legends such as John McEnroe, Greg Rusedski and Martina Navratilova in previous years.
Players will compete in a purpose built stadium from June 19 to 22.
Professional and amateur tennis players take part in the competition.
Anders Borg, tournament director and organiser from Northern Vision, said: "This year's tournament is set to be a really exciting event."
Ian McKenna, director of development at Liverpool Hope University, said: "It gives our students the chance to experience international level tennis in the local community."
The tennis tournament, which is sponsored by Liverpool Hope University, was first held in 2002.