Liverpool cruise liner services: Commissioners back state funding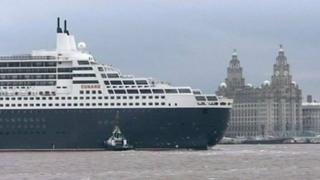 Millions of pounds in state aid to develop cruise liner services in Liverpool do not break fair competition rules, European commissioners said.
Cruises have been able to start and end in the city since turnaround status was granted in 2012.
Rival port Southampton complained public funding worth £17.8m to develop new facilities in Liverpool was unfair.
But the European Commission has ruled that government aid for the project was "in line with EU rules".
The announcement was welcomed by Mayor of Liverpool Joe Anderson.
"We were confident of our position and are disappointed that the biggest UK cruise liner port felt it necessary to ask the European Commission to investigate."
He also claimed the Port of Southampton had already benefitted from public investment in infrastructure.
'Vital contribution'
Government funding to develop Liverpool's cruise liner business was granted originally on condition on it was only used for cruise stop-offs, not turnarounds.
As a result of the lifting of restrictions, Liverpool City Council had to pay back £8.8m in government grants.
Southampton's Chamber of Trade said each cruise liner visit was worth £2m to Southampton's economy and complained to the European Commission that public funding gave Liverpool an unfair advantage.
But the Commission has said EU state aid rules allow for the development of certain economic activities "provided that it does not unduly affect trade and competition in the Single Market".
Southampton Port Director Nick Ridehalgh said: "The cruise business makes a vital contribution to the local economy and that's why this is so important.
"We will continue to work hard to ensure the Port of Southampton delivers the best service for its cruise customers."
A plan by Liverpool City Council to use the Grade II-listed Cunard Building as a cruise liner terminal was approved in October last year.