Derek Acorah banned from driving after Southport crash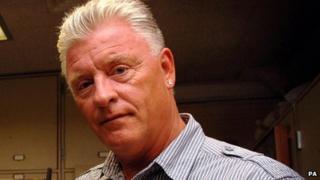 TV psychic Derek Acorah has been banned from driving following a car crash.
Acorah, 64, was driving a Nissan GT near Southport, Merseyside, on 7 December when the crash took place.
The Crown Prosecution Service said the psychic's car had approached a roundabout at speed and veered across the road. His car struck a Ford Ka, causing the driver to have whiplash.
Appearing at Bootle Magistrates' Court under his real name Derek Johnson, he admitted careless driving.
Magistrates banned Acorah from driving for 28 months.
Acorah also admitted failing to provide a breath test after the Scarisbrick New Road crash.
'Fear of driving'
The CPS said he failed a breath test at the scene of the accident, but refused to give a further breath test at the police station.
Philippa Kennedy, from the CPS, said his "driving on that day could have caused serious injuries".
"Thankfully, the driver in the other car escaped without serious harm but did suffer several injuries and now has a fear of driving", she said.
He also received a £1,000 fine and was ordered to pay a £100 victim surcharge.
Mr Acorah, of Scarisbrick, Southport, is best known for his work on the Living TV show Most Haunted.