Andrew Jones killer: Appeal renewed by parents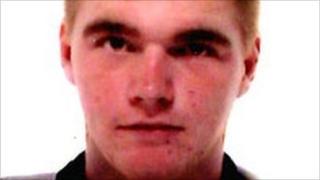 The parents of a Liverpool teenager killed 11 years ago have renewed their appeal for help to find their son's killer in time for what would have been his 30th birthday.
Andrew Jones, 18, from Walton, was punched outside a nightclub on Hanover Street, Liverpool on 9 March 2003.
He suffered serious head injuries and died the following day.
His mother Christine Jones said she has to live with "unimaginable pain", made worse by her son's unresolved case.
'Burden of guilt'
She said: "The pain of losing a child remains worse than any other pain imaginable.
"To lose a child in such a brutal and senseless way is indescribable."
But Mrs Jones still hopes someone will come forward with information so someone can be brought to justice for her son's death.
"The person who attacked Andrew that night not only stole his life and dreams they stole ours too," she said.
"I wonder if they, or the girls they were out with that night, now have children? Do they have any sense of the pain we are still feeling day in, day out?"
A £10,000 reward is being offered by charity Crimestoppers for information leading to the arrest and prosecution of anyone responsible for his death.
Det Supt Dave Brunskill urged people to "search their consciences".
He said: "Someone knows what happened that night and knows who is responsible. Maybe you have been able to bury it all these years but it is a terrible thing to sit on and the burden of guilt must be heavy"
Andrew would have been 30 on 2 April.