Volunteers sought for returning giants in Liverpool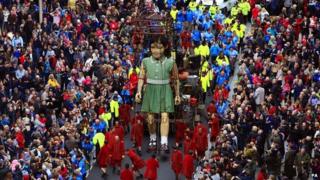 Volunteers are being sought for a giant puppet event in Liverpool to mark 100 years since the start of World War One.
Memories of August 1914 will see Little Girl Giant and her dog Xolo return to the city's streets from 23 to 27 July.
Giant operators are needed "to move the giants around the streets". About 500 volunteers are needed, with other roles including special effects assistants and sound engineers.
About 800,000 people watched Sea Odyssey in Liverpool two years ago.
The number of volunteers needed this year has doubled since the first giant puppet event.
Wendy Simon, Liverpool City Council cabinet member for culture and tourism, said the increase was due to the "focus in getting ordinary people to become part of the show".
She said: "This is a unique opportunity to be part of what is set to be the biggest street theatre event in the UK this year."
Other roles available include runners, drivers and interpreters to translate for the French technical team.
Royal de Luxe, based in Nantes, specialise in street theatre using giant marionettes.
Volunteers are required to be 18 or over at the time of the event and some will also be required for rehearsals in early July.
Sea Odyssey saw three giant marionettes - a 50ft (15m) man, a 30ft (9m) girl, and a 9ft (2.75m) dog, walk through the streets in a three-day event in April 2012.
The event, which commemorated the Titanic disaster, generated an estimated £32m for the city, an independent report found.
The WW1 event has been commissioned by Liverpool City Council and 14-18 Now, which is a cultural programme funded by groups including the Department for Culture, Media and Sport.