Youngest councillor could rejoin Labour after quitting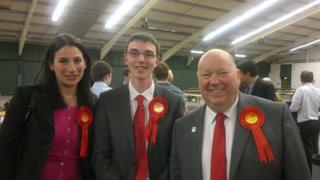 Liverpool's youngest councillor Jake Morrison could rejoin the Labour party, nine months after quitting following a row.
Last June, Mr Morrison left Labour to stand against Luciana Berger at the next general election.
The 20-year-old - the city's youngest elected councillor - was suspended following a row with the Liverpool Wavertree MP.
Ms Berger had complained about his "complete lack of teamwork."
At the time, Mr Morrison said he would stand as an Independent "as he could do a better job".
He claimed some of the party's policies made him "want to vomit."
The councillor was elected in May 2011, aged 18, becoming the city's youngest ever councillor.
'Clear the air'
He caused an upset by unseating former Liverpool council leader and Liberal Democrat councillor Mike Storey.
"I am in discussions with Joe," Mr Morrison told the BBC. "Two weeks ago, Joe Anderson asked to meet with me to clear the air.
"The only party I've ever belonged to is the Labour party," Mr Morrison said.
He said there was going to be a long process before he is potentially reinstated.
He said he has been approached by seven different political parties and "has refused every single one of them".
"It's the NEC's (National Executive Committee) choice because I was suspended for bringing the party into disrepute."
He said he has apologised to Luciana Berger.