Super Mersey authority a step closer as council meets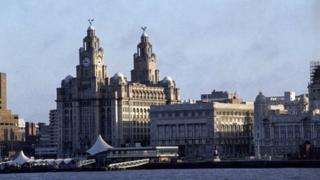 Plans for a combined authority on Merseyside that aims to help the region's economy are a step closer.
Under the proposals, all six councils would devolve key powers into a single body on 1 April.
For now, it is known as the Halton, Knowsley, Liverpool, St Helens, Sefton and Wirral Combined Authority.
Once approved, it could bid for extra government money on transport, economic development, employment and skills. The government supports the idea.
It will be renamed once the six local authorities can agree on an official name. Until then, it has the lengthy working title.
Proponents say it will provide "clear leadership and greater transparency" while creating a legal entity to attract funding.
Liverpool and St Helens Councils meet later to discuss the plan. Halton and Sefton Councils meet on Thursday, Wirral Council on 10 March and Knowsley Council on 19 March.
The model has been likened to the Greater Manchester Combined Authority, England's first statutory combined authority created two years ago.
Barrie Grunewald, leader of St Helens Council, said the city region would be in a much better position to support businesses and create jobs.
It was approved by Liverpool City Council's cabinet last week and will be discussed by the full council at a meeting later.