Francis Brennan 'kidnapped by bogus police in Spain'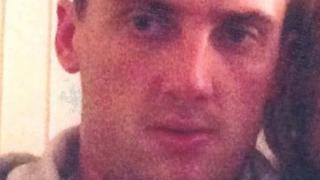 A man who fled to Spain to avoid being sentenced for an attack has been abducted by three men posing as police officers, police in the UK believe.
Merseyside Police said Francis Brennan, 25, has not been seen since he was stopped in a friend's car, handcuffed and taken away on 24 January.
They said Brennan fled to Alicante in October to avoid being sentenced for an assault in Thames Valley in 2012.
His parents, who admit he was involved in crime, have pleaded for information.
'No angel'
Merseyside Police are working with their Spanish counterparts the Guardia Civil and the National Crime Agency to trace Brennan, who is originally from Anfield.
His parents Carl and Janet Brennan said the disappearance of their only son was an "awful shock" that had "devastated" the family.
They said they had pleaded with him not to leave the country but he would not listen.
"He told us not to worry and that he would be home after Christmas."
His father said: "We know Francis isn't an angel but he is our son and he has a loving family.
"No-one deserves this to happen to them and as time goes by we are worrying even more on a daily basis."
His girlfriend Sophie Staunton, who originally went out to Alicante with him, flew out to persuade him to return home in December.
Det Supt Richie Carr from Merseyside Police said: "Francis's disappearance is completely out of character and because of this, as well as his associations and lifestyle, ourselves and the Spanish police are extremely concerned for his safety.
"We believe he has been taken against his will and we and his family are hopeful that someone in the criminal fraternity here in Merseyside has information that could help bring about the safe return of Francis."