Hillsborough 'spy' claims: Two more families complain to IPCC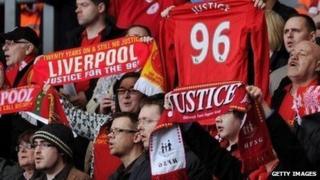 Two more families of Hillsborough victims have alleged they were spied on by undercover officers.
Police watchdog the IPCC confirmed it was investigating claims one family was put under surveillance and another had property stolen.
The previous complaint, lodged by solicitors earlier this month, included alleged phone tapping.
Scotland Yard refused to comment last month on claims officers spied on Hillsborough campaigners.
Home Secretary Theresa May has said previously the IPCC would pursue claims if evidence came to light.
Ninety-six Liverpool fans died following a crush at Sheffield Wednesday's Hillsborough stadium on 15 April 1989 during the FA Cup semi-final between Liverpool and Nottingham Forest.
In a monthly update, deputy chair of the Independent Police Complaints Commission (IPCC), Rachel Cerfontyne, confirmed a total of three complaints had been received.
The IPCC said it had also accepted an offer from the home secretary to write to all police forces and ask for disclosure of all documents on Hillsborough.
Ms Cerfontyne said: "We believe the home secretary's letter may also assist in identifying whether any documentation relating to surveillance exists."
A spokesman for the Home Office said Ms May was yet to write to police forces but confirmed she was intending to do so.
Fresh inquests into the deaths at Hillsborough will begin in Warrington on 31 March.
The original accidental death inquest verdicts were quashed in 2012 following an independent report.