Restored Titanic headquarters opens in Liverpool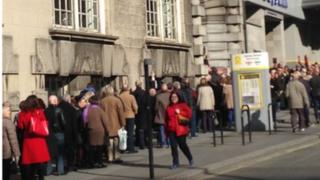 Hundreds queued to see the former headquarters of Titanic cruise liner operator White Star Line open its doors for the first time in decades.
Grade II listed Albion House on The Strand, Liverpool, is being converted into a hotel by Signature Living.
The first class ticket lounge has been restored with original features that were hidden when the building was converted to offices.
The White Star Line flag was raised to mark 80 years since it closed.
Titanic historian Paul Louden-Brown had the flag made to the original White Star pattern.
Decades empty
He said: "I believe I'm the only person who has an original White Star pattern and the flag makers were a bit bemused I needed it made in exact imperial measurements. But it's as good as it can be."
Developers are investing £7m in renovating the building, which was erected in 1898, so it can house up to 310 guests in 65 apartments.
Each room will represent a different part of the operator's history or the era.
After White Star Line left the building in 1934, it was sold to Pacific Steam Navigation Co and latterly Blue Star Line, becoming Albion House.
It has been empty for decades.
The building, renamed 30 James Street, was open free to the public from 10:00 to 13:00 GMT.