First patient trials pancreatic cancer immunisation jab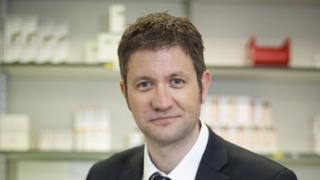 A pancreatic cancer immunisation programme at a Wirral hospital has recruited its first patient.
Allan Helliar, 64, from Liverpool, is taking part in the Clatterbridge Cancer Centre trial.
He was diagnosed with pancreatic cancer in October and had a tumour removed in December.
Professor Daniel Palmer said the vaccine was "a form of immunotherapy" used after initial surgery to remove the tumour in the pancreas.
'Quality of life'
Mr Helliar said the vaccine was "a bit of an insurance policy".
"I want to give myself the best quality of life to enjoy with my wife Angela and our children and grandchildren," he said.
He said he thought two treatments, the vaccine and chemotherapy, were worth trying.
Mr Helliar, who hopes to reach the age of at least 70, said the treatment was quick and simple.
Professor Palmer said the vaccine manipulates the body's immune system "to recognise microscopic cancer cells, meaning a patient is able to fight any remaining cells before the cancer forms in any other parts of the body".
Pancreatic cancer is responsible for more than 9,000 deaths in the UK every year, with less than 4% of patients surviving five or more years after diagnosis.
The trial is also taking place at The Christie Hospital in Manchester.