Jordan Ross: Police apology to man named as 'most wanted'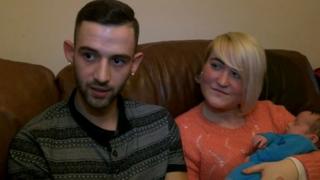 A man who collected a computer printer for a recycling company found himself in a "most wanted" gallery after the printer was wrongly reported stolen.
Jordan Ross, from Warrington, went on paternity leave after making the collection only to find CCTV images of him in the local newspaper.
"It was a total shock," said Mr Ross, 20, who has now received an apology from the Warrington Guardian.
Cheshire Police have apologised to him for "any distress caused".
Driver's mate Mr Ross collected two printers from a branch of Bargain Booze on Chester Road, Warrington, late in January before going on three weeks leave.
He said the next thing he knew his picture was portrayed as being one of Cheshire Police's "Most Wanted" offenders.
"I couldn't believe it when I saw the newspaper," said Mr Ross.
He added: "We were told we had taken the wrong printer and it was later reported as stolen."
Mr Ross "handed" himself into the police as it was the only way he could clear his name.
Ch Supt Sarah Boycott said: "An incident of theft was reported to police by Bargain Booze. A CCTV image was provided by the company in good faith as part of the investigation. This was circulated by police via the normal channels.
"On Tuesday, concerns were raised by Jordan regarding the CCTV image and this was immediately removed from circulation.
"I would like to thank Jordan for bringing this to our attention. I have personally spoken to him about the matter and have apologised for any distress caused on his behalf.
"I appreciate the impact this has had on Jordan and his family and I would like to reassure him that, as soon as it became clear that he was not involved in a theft, the image was removed from circulation."
The Warrington Guardian newspaper said: "When we realised what had happened, we were happy to remove it and clarify what had happened."
Bargain Booze apologised for any confusion that "this misunderstanding has caused".