Three more 'Geebs abuse' cases in Liverpool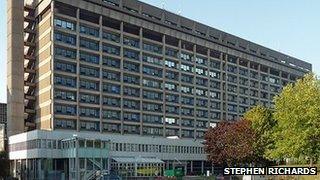 Three more people had to be taken to hospital after apparently abusing a chemical used to clean alloy wheels.
Police were called to student accommodation in Hatton Garden, Liverpool at 17:15 GMT on Monday.
A 20-year-old man from Liverpool has been arrested for possession with intent to supply a controlled drug.
Police are investigating if it is linked to an incident in which three people collapsed after taking the chemical, called Geebs, on Sunday.
They were found at student accommodation in Borden Court, Liverpool after taking the substance.
'Serious side effects'
Two 20-year-old men from Liverpool and Crewe, and the 19-year-old man, from Mold in Wales, who were in hospital on Monday have since been discharged.
Det Supt Chris Green said: "This latest incident shows how important it is to listen to our warning about the effects this substance can have."
He said Geebs could have "serious side effects and can kill, even in small doses".
"We will continue to work with our city's universities to warn people about the dangers of taking drugs and chemicals, particularly if mixed with alcohol, or other substances," Mr Green added.
Merseyside Police said it was legal to sell the chemical for the purpose of cleaning alloy wheels but if it was illegal to sell it with the intention of it being used as a drug.