Alder Hey Hospital building site probe as man breaks pelvis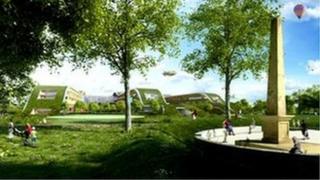 A safety investigation has begun on the site of a new hospital in Merseyside following a series of accidents in the past three weeks.
The Health and Safety Executive (HSE) started inspections after concerns raised by a trade union over work on the new Alder Hey Children's Hospital.
Liverpool's mayor Joe Anderson and MP Stephen Twigg have also raised concerns with contractors Laing O'Rourke.
The company said workplace safety was an "overriding" priority.
HSE said it was investigating five incidents, which included one worker who suffered a crushed pelvis on site, after safety issues raised by the builders' union Ucatt (Union of Construction Allied Trades and Technicians).
Three were incidents which must be reported to the HSE.
'Unhappy site'
The union claims that Laing O'Rourke has barred its representatives from normal access to the site, and that this had been a contributory factor in the spate of accidents.
But the claim has been denied by Laing O'Rourke's chief executive Anna Stewart.
Andy Fisher, regional secretary for Ucatt's North West region, said: "This is clearly a very unhappy site which has now got serious safety issues."
Mr Anderson and Labour Mr Twigg, the MP for Liverpool West Derby, have also expressed their concerns about the site.
The mayor said he and Mr Twigg had "written a joint letter to Laing O'Rourke following concerns raised by Ucatt about the Alder Hey site over the last few months".
"Health and safety is a top priority and we want to be confident that the issues raised are being taken seriously and addressed quickly."
Ms Stewart said: "Laing O'Rourke's overriding priority is the safety and welfare of our workforce."
She added: "Given this ambition it is with regret that we confirm that recently there have been three reportable incidents on the Alder Hey in the Park project in which three employees sustained injuries, none of which were life-threatening."
Ms Stewart also said: "To suggest that the lack of union safety representatives could be a factor is untrue."