Three collapse after taking Geebs chemical in Liverpool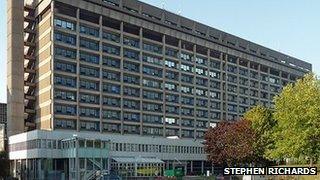 A man has been arrested after three people collapsed when they took a substance suspected to be Geebs, a chemical used to clean alloy wheels.
Police attended student accommodation in Borden Court, Liverpool, at about 07:30 GMT on Sunday.
Two men aged 20 and 22 and a 16-year-old girl were taken to hospital but have since been discharged.
The 19-year-old man from Worsley, in Salford, was arrested and bailed on suspicion of supplying a class C drug.
'Can kill'
A police spokesman said it was legal to sell the chemical for the purpose of cleaning alloy wheels but if it was illegal to sell it with the intention of it being used as a drug.
Officers searched Borden Court and a property at Lawrence Road in Wavertree where the two men and the teenager had been at a party.
Det Supt Chris Green, said: "We believe that the three people... had taken a product called Geebs, which is actually a chemical used to clean alloy wheels and is used as a legal high.
"This substance is a chemical used to clean car wheels and even in small doses can kill," he added.
Mr Green said checks were being carried to be ensure they had not taken a bad batch of drugs.