Exhibition Centre Liverpool: Work begins on waterfront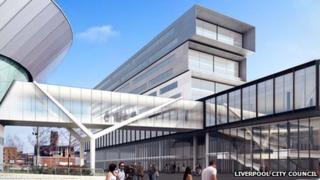 Work has begun on a £40m exhibition centre and a £26m hotel on Liverpool's waterfront, which could create up to 1,300 jobs.
The Exhibition Centre Liverpool will host national and international conferences, trade and consumer exhibitions and sports events.
A 216-room four-star hotel will also be built in King's Dock as part of the Liverpool City Council development.
The council said the complex was due to open by the summer of 2015.
'World class'
It has borrowed money for the project and repayments would be generated by income from the centre, it claimed.
The council said it would not be funded with taxpayers' money.
Mayor Joe Anderson said: "Delivering a world class exhibition centre is a major priority for me.
"It's yet another important landmark in the ongoing growth and development of our waterfront."
In its first year, the council predicts the Exhibition Centre Liverpool will host about 50 events.