Liverpool £80m roads investment bid for city gateways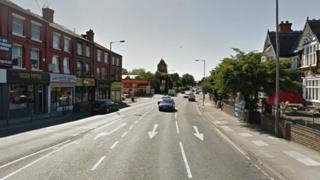 Liverpool City Council is hoping to invest £80m over the next eight years to improve the city's road network.
Work will take place to improve the worst sections of the network, such as the gateways into the city.
The city's cabinet will be asked on Friday to give the go-ahead to the plans, which will reduce Liverpool's £256m maintenance backlog.
The work will include carriageway resurfacing and pothole repairs.
Areas that could benefit from the city's £80m highways investment include Islington, Parliament Street and Upper Parliament Street, Edge Lane and Smithdown Road.
Other areas include Walton Vale/County Road and East Lancashire Road.
Money will come from capital and capital investments, the council said.
'Potholes'
Mayor Joe Anderson said a lack of investment over a number of years has seen roads deteriorate.
He said: "I am constantly talking to local people about the potholes and damaged road surfaces which not only damage cars, but damage our city's image. We want to take significant steps in putting that right."
The city council will also seek to identify sources of additional private and other public sector funding, including utility companies, to help finance the work.
It currently receives £3.5m a year from central government to maintain highways - roads, paths, street lighting and structures. This money will be redirected to B and C roads and unclassified roads.