Porridge actor Ken Jones, who played 'Horrible' Ives, dies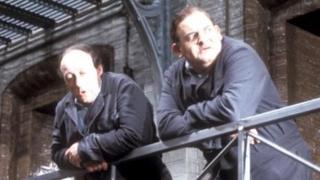 Actor Ken Jones, who was best known for his role as "Horrible" Ives in Porridge, has died aged 83 from bowel cancer.
The Liverpool-born star, who spent his later life in Llanrhystud, west Wales, died at a nursing home in Prescot, Merseyside, on Thursday.
Jones played "Horrible" Bernard Ives in the comedy alongside the late Ronnie Barker and the late Richard Beckinsale.
He also appeared in The Liver Birds, Casualty and Peak Practice.
Jones started acting in amateur dramatics groups in Liverpool and had a long acting career before retiring to Wales about 10 years ago, where he lived with wife Sheila, an actress, until her death in August.
'Affectionate and entertaining'
The couple had no children but were close to their seven nieces and nephews and their children, sister Edith Jones said.
Ms Jones, of Roby, one of Jones's four siblings, said: "Ken was very affectionate and entertaining, he'd visit every Christmas and always perform a funny monologue.
"Even in the nursing home he was keeping the ladies amused.
"After Porridge people used to recognise him but to him acting was just something he did and enjoyed.
"He worked very hard to get to where he was and his family were very proud of him.
"He was lovely and will be greatly missed."
Family friend Malcolm Frood, 71, from Liverpool, said: "I have known him all my life.
"He was one of the great friends of the family that we have ever known."
His funeral will be held at St Peter's Church, Everton, on Monday 24 February.