Housing benefit rebate on Merseyside to be £560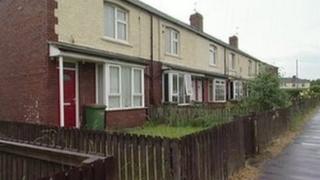 Nearly 2,600 tenants with extra bedrooms on Merseyside will be eligible for rebates worth hundreds of pounds after their benefits were wrongly cut.
The Department for Work and Pensions (DWP) said a legislation error meant thousands of people in social housing should have been exempt from the under-occupancy penalty.
Critics have dubbed the policy change the "bedroom tax".
The DWP said 5,000 people across the UK could be due a rebate of around £560.
Since April 2013, working-age people in social housing received housing benefit based on the number of householders and the size of accommodation.
Those with one spare bedroom face a benefit cut of 14%, not including pensioners, and 25% for those with two or more spare rooms.
'Wrongly affected'
In Liverpool, more than 700 people have been affected and will receive rebates, the city council said.
Mayor Joe Anderson said it was his intention to "make sure any Liverpool resident who has been wrongly affected by this government error gets back every penny they are entitled to".
He said he was "delighted" with the willingness of social landlords to identify exempt tenants and put any bedroom tax legal action on hold, while assessments are ongoing.
In Wirral, 450 tenants of social landlord Magenta are affected plus 150 other tenants. The authority began repaying the money a fortnight ago.
Sefton Council estimates 500 tenants are affected, as does Knowsley.
Warrington Council estimates 100 people are affected and a further 181 in Halton. In total, this equates to nearly 2,600 people.
The DWP announced last month that an error when drafting the legislation meant thousands of tenants were entitled to a rebate if they have been continuously entitled to housing benefit since 1 January 1996 at the same address.
A DWP spokesman said: "We expect very few people to be affected by this - around 5,000."
The department said it was working with councils to ensure affected claimants were kept informed.
"The removal of the spare room subsidy means we still pay the majority of most claimants' rent, but the taxpayer can no longer afford to pay the £500m cost of claimants' extra bedrooms."
The DWP said the loophole will be closed in March.