Liverpool sea death relatives' ship safety campaign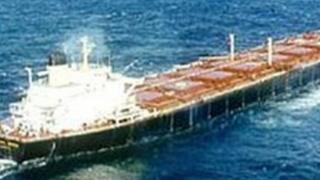 Relatives of sailors that died when their ship sank in 1980 have formed a charity to campaign for tighter safety controls on merchant ships.
Forty-four people died, including 17 from Liverpool, when bulk carrier the MV Derbyshire went down in the South China Seas.
MV Derbyshire Trust Fund founders said not enough improvements have been made since the disaster.
In the last decade 192 sailors died when 66 ships sank around the world.
Prior to that, in the 15 years to 2004, there were 869 deaths in 173 sinkings, according to figures from bulk carrier association Intercargo.
'Coffin ships'
A spokesman said: "Lives lost on bulk carriers have significantly reduced since the 1980s due to better construction of the ships themselves and better checks on vessels in port to ensure they meet international conventions.
"Recently, lives have been lost because of the liquefaction of cargoes causing a rapid sinking."
Fifteen lives were lost in February 2013 when the Harita Bauxite sank on its way to China from Indonesia carrying nickel ore, which turns to liquid when wet and can run to one side in high waves, tipping a ship.
Trust chairman Paul Lambert, whose brother Peter died in the MV Derbyshire disaster when he was 19 years old, said the group wanted to make sure safety rules were updated so the vessels do not "return to the days of being called coffin ships".
The trust was launched on Tuesday at the Merseyside Maritime Museum, which hosts a permanent display about the MV Derbyshire sinking.
The group is calling for the International Maritime Organisation (IMO) to bring in the retro-fitting of higher standard hatch covers, which all newly-built ships must use.
An inquiry into the sinking of the MV Derbyshire ruled that a hatch cover had been unable to withstand the intense pressure of the storm waters and had given way.
An IMO spokesman said for amendments to be made to regulations, a proposal must be submitted to the International Convention for the Safety of Life at Sea.
There are about 5,000 bulk carriers in use around the world, the IMO said.