Plasmor fined over Widnes tipper truck death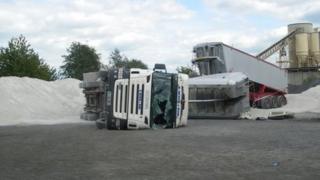 A concrete manufacturer has been fined £100,000 after a worker was crushed to death when a tipper truck overturned.
Plasmor (Halton) Ltd in Widnes, was prosecuted by the Health and Safety Executive (HSE) following the death of David Astley, 56, from Ellesmere Port.
He was crushed when a trailer full of limestone dust fell on him as it was being emptied on 13 July.
The HSE said Mr Astley's death "could have been avoided" had a better vehicle safety system been in place.
Liverpool Crown Court heard Mr Astley was tipping the limestone on to the site when another driver arrived at the plant with a second load.
'Properly trained'
The second driver was told to empty his truck in the same place but, as he lifted the trailer, it overturned and fell on top of Mr Astley's cab.
The court was told the tipper trucks arriving on the site could weigh up to 44 tonnes and the risk of vehicles overturning is well known in the manufacturing and construction industry.
The HSE investigation found Plasmor, of Tanhouse Lane, Widnes had failed to carry out a risk assessment for the work and should have made sure vehicles were kept a safe distance apart.
The person who directed the drivers on to the site had also not received suitable training.
Plasmor (Halton) Ltd was fined £100,000 and ordered to pay prosecution costs of £28,600 after pleading guilty to a breach of the Health and Safety at Work Act 1974.
Speaking after the hearing, HSE inspector Jane Carroll said: "Plasmor has since changed its procedures so staff are properly trained and tipper trucks are kept at least 20 metres apart.
"If this system had been in place at the time of the incident then Mr Astley's death could have been avoided."