Hillsborough inquest: Police lawyers to probe fans' 'drunkenness'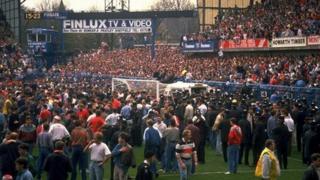 The disputed suggestion drunkenness among fans played a part in the Hillsborough disaster will be explored again in new inquests, lawyers for senior police officers have said.
The disclosure drew angry cries from victims' families at a hearing ahead of next month's fresh inquests.
Ninety-six Liverpool fans died as a result of a crush in 1989 .
The Hillsborough Independent Panel found no evidence alcohol "played any part in the genesis of the disaster".
Fresh inquests into the deaths at the FA semi-final match are set to begin on 31 March in Warrington, Cheshire.
'Present neutral opinion'
At the fifth pre-inquest hearing in central London, John Beggs QC acting for match commander Ch Supt David Duckenfield and other senior officers announced they intend to explore if drunkenness among fans contributed to the deaths.
In submissions to the coroner, Lord Justice Goldring, a QC representing 22 of the bereaved families, said his team have commissioned an expert report on alcohol to present a neutral opinion.
Lord Goldring will consider whether this can be given as evidence.
Newspaper reports that "drunk and ticketless" fans were to blame for the Hillsborough stadium disaster on 15 April 1989 were dismissed by the 1989 Taylor Inquiry which concluded the main cause was the police failure of crowd control.
The Hillsborough Independent Panel (HIP), published in September 2012, also cleared Liverpool supporters of any wrongdoing.
It said: "The Panel found no evidence among the vast number of disclosed documents and many hours of video material to verify the serious allegations of exceptional levels of drunkenness."
It added that an emphasis on alcohol consumption had "fuelled persistent and unsustainable assertions about drunken fan behaviour".
Earlier, the hearing was told jurors will also make a visit to the stadium but will not be allowed to read on-site tributes to the victims.
'Objective approach'
Christina Lambert QC, counsel to the inquests, said: "The reason that we make this final observation is because the jury must remain objective and must be seen to be objective in their approach to the issues.
"Having visited the memorial myself, there is no doubt that the tributes that are made there are deeply moving."
She added there was "broad agreement" on the parts of the stadium and locations nearby, which should be viewed by the jurors.
"Our view is that it is reasonable for the jury to view the current police box even though its location is not precisely as it was in 1989," Ms Lambert said.
She told coroner Lord Justice Goldring the fresh inquest should aim to conclude around Christmas time.
The High Court quashed the original inquest verdicts in December 2012 following publication of the Hillsborough panel report.