Ian Hughes: Vicar had '8,200 child sex abuse images'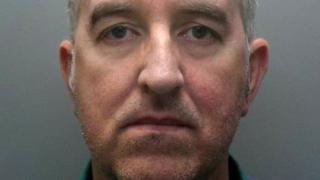 An Anglican vicar was caught with more than 8,000 images of child sexual abuse, including 800 of the "worst kind", Liverpool Crown Court heard.
Ian Hughes, 46, was a successful priest by day but by night was downloading thousands of indecent internet images of children, the court was told.
Hughes admitted 17 offences and was jailed for a year.
The Bishop of Chester said he was "deeply shocked" at Hughes' "unacceptable" actions.
'Like an addiction'
Hughes has resigned from the priesthood.
Expressing his "profound regret", the Rt Rev Dr Peter Forster apologised to Hughes' former parishioners in Poulton and Seacombe in Wallasey.
He added: "They have been badly let down."
"Ian Hughes' court appearances and sentencing have come as a deep shock to all who know him. His actions have been totally unacceptable for a Christian minister, and his case will now be considered by the disciplinary procedures of the church," the bishop said.
Hughes told police he was relieved when they raided his vicarage in Wallasey last year. They found 8,200 images he had downloaded, including 800 that are categorised as the worst kind legally.
He told officers it was "like an addiction" and he had been attracted to young boys since he was a teenager and had "struggled" with his sexuality throughout his life.
Det Insp David Rich, of Merseyside Police's cyber investigations unit, said the sentence should "send out a very clear message to paedophiles that they cannot hide behind the anonymity of the internet to commit crimes against children and they will eventually be caught."
He added: "All the images represent children, in some way, being abused, and every time a picture is downloaded by a paedophile it creates a vicious circle of misery which eventually leads to more abuse and more victims."