W Carroll & Sons Ltd fined £105,000 over Southport fall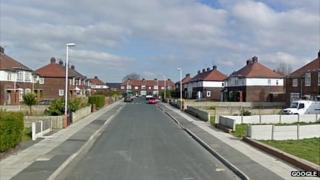 A building firm has been fined £105,000 after a roofer was paralysed when he fell from a ladder in Southport.
Michael Riley, 50, from Skelmersdale, Lancashire, suffered serious injuries and has little movement below his neck.
Walton-based W Carroll & Sons Ltd, which hired him as a sub-contractor, was prosecuted by the Health and Safety Executive at Liverpool Crown Court.
It heard roofers were made to carry heavy bags of materials while on ladders.
The court heard the company was working on a project to replace roofs on 350 properties in Maghull and Southport, using about 20 sub-contractors to carry out the work.
Mr Riley was removing cement sheets from a house in Victory Avenue, Southport, in January 2011, but was unable to use a rubble chute as the sheets contained asbestos.
Major internal injuries
He was holding a 10kg (22lb) bag on his shoulder with one hand on the ladder and lost his balance after a few rungs and fell backwards, hitting a truck parked nearby.
He was paralysed in the fall and suffered major internal injuries which mean he will be severely disabled for the rest of his life.
The court was told Carrolls had failed to provide suitable equipment - such as a gin wheel - so that the bags could be lowered to the ground safely.
The HSE investigation also found the company failed to change the system for removing waste asbestos following the incident, which continued to put lives at risk.
The company was fined £105,000 and ordered to pay £64,600 costs after admitting a breach of the Health and Safety at Work Act.