St Faith's Church Crosby priest was 'bullied' out of parish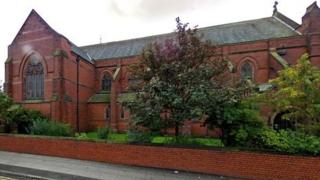 An Anglican priest who clashed with his flock after cutting back on serving alcohol after services was bullied by some parishioners, a report found.
Report author Bishop Stephen Lowe said Fr Simon Tibbs suffered "appalling" treatment by some of his parishioners at St Faith's, Crosby.
He also found some parishioners saw the church as a "social club".
Acting Bishop of Liverpool, the Rt Rev Richard Blackburn, said he was "greatly saddened" by the report's findings.
Bishop Blackburn, who is due to discuss the report with church wardens on Monday, set up the six-month Episcopal Visitation by Bishop Lowe - retired Bishop of Hulme, Manchester - following reports of problems in the parish, which once numbered future Archbishop of Canterbury Robert Runcie among its flock.
His report was presented to the Parochial Church Council (PCC) on Monday, outlining "serious failings in the PCC and amongst the laity", which led to "a culture of bullying".
Bishop Lowe said: "Simon Tibbs made some mistakes, there is no question about that, and he has acknowledged that and apologised for them.
"The way in which there was a degree of organised effort to rid them of this 'turbulent priest'... was quite appalling really, and we have to, as [the] Church of England make quite clear that sort of behaviour is unacceptable."
Fr Tibbs, who used to be joint Priest-in-Charge of both St Faith's and neighbouring St Mary's is now based at St Mary's.
"This has been a very difficult period for me. I am grateful for all those who have supported me, particularly the ministerial team at St Faiths," said Fr Tibbs, who arrived at the parish last year, in a statement.
He added: "I now wish to devote my energy to my fruitful ministry at St Mary's as I seek to move forward in my ministry."
Bishop Blackburn said he had appointed Reverend Sue Lucas to take over from 25 February as Priest-in-Charge for an 18-month period.
"I am greatly saddened by the findings of Bishop Stephen's report especially his observations of a culture of bullying against a priest in Holy Orders which neither I, or the Diocese of Liverpool, will tolerate," he said.
"Sue has a great love for the Catholic tradition of the Church of England and possesses the spiritual toughness and intellectual rigour that will help St Faith's to rediscover its Catholic spirituality in mission and worship."
The bishop also said: "A long, difficult and painful process lies ahead if the failure of the spiritual life of this church is to be properly addressed."