Cattle 'death camp' farmer James Stratton jailed for animal cruelty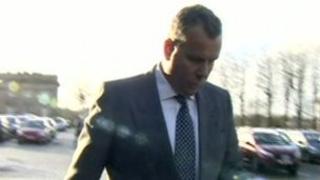 A cattle farmer who ran a "death camp for animals" has been jailed for 12 months after abandoning his herd to go skiing.
James Stratton, 49, of Churton Heath Farm, Chester, admitted animal cruelty charges at Warrington Crown Court.
Animal welfare officers found "emaciated" cattle searching for food among carcasses in "the worst case they had ever seen", the court heard.
Stratton was also banned from keeping animals for 10 years.
Officers from Cheshire West and Chester Council visited Cold Harbour Farm, where the animals were kept, on 13 February last year after receiving an anonymous phone call.
They discovered the rotting carcasses of 33 animals after Stratton had left them without food or water, the court was told.
Another 37 cows found wandering among the bodies were described as "wild and dangerous" and had to be slaughtered, with only one animal surviving.
Judge Roger Dutton told Stratton he was a "disgrace to the farming community" who ran a "concentration camp for animals."
"It was more akin to some of the awful footage you saw at the end of the war," he said.
'Appalling attitude'
Stratton, who ran a farmhouse B&B with his family at Churton Heath Farm in Bruera, had rented nearby Cold Harbour Farm to raise a herd of beef cattle for dog meat.
The court was told he went on a skiing holiday after "struggling to cope" as a tenant farmer and was "too embarrassed" to ask for help.
Jailing him for a year, Judge Dutton told Stratton he had displayed an "appalling and cavalier" attitude to animal welfare by abandoning his animals without proper care in favour of a winter holiday.
"It might be that you were not coping but there is no excuse for doing nothing."
Investigators also found that of the 37 animals they recovered, only nine were registered with the British Cattle Movement Service and four had cattle passports.
Stratton was also banned from owning, keeping or dealing in animals for 10 years.