Bridge in St Helens renamed after player Steve Prescott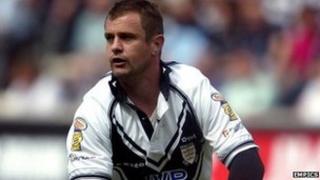 A bridge in St Helens linking the town centre to the rugby league ground is to be renamed after player Steve Prescott.
Prescott, who died last year at 39 of a rare form of stomach cancer, will be honoured with the renaming of the Saints Way Bridge.
Council leader Barrie Grunewald said he was a "legend of the game" as well as being a tireless fundraiser.
The player, who retired a decade ago and was awarded an MBE in 2009, was diagnosed with pseudomyxoma peritonei.
Mr Grunewald said: "By naming the bridge after him it is our tribute to one of the greats of St Helens and a most well deserved honour, all the more so that the bridge links the town Steve loved so much to his beloved club."
He also raised more than £500,000 for charity through the Steve Prescott Foundation.
St Helens Rugby League club chief executive Mike Rush said it was "only fitting that one of St Helens' greatest sons has such an honour bestowed on him".
He said the club will make sure he has a fitting legacy at Langtree Park.