Liverpool crossbow shooting: Three more arrested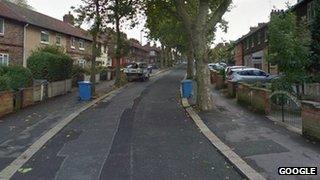 Three more people have been arrested in connection with a crossbow shooting in Liverpool in which a man lost part of his ear and finger.
The victim, believed to be in his 20s, also suffered substantial leg injuries in the attack on Davidson Road, Old Swan, at about 17:00 GMT on Thursday.
A Wavertree man of 30, a Liverpool man, 25, and boy aged 17 from Old Swan were arrested on suspicion of assault.
Police had already made three arrests in connection with the shooting.
A 22-year-old man from Old Swan and a boy aged 16, of no fixed abode, were arrested on suspicion of assault. A 38-year-old woman was arrested for drugs offences.
Police have released five of those arrested on bail except for the 25-year-old man from Liverpool who remains in custody.
The victim, whose injuries are not thought to be life threatening, is still being treated in hospital, said police.