Aircraft landing 'near-miss' over Runcorn Bridge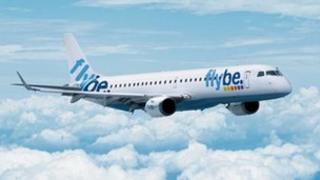 A Flybe plane carrying 61 passengers had a near-miss with Runcorn Bridge as it came to land at Liverpool John Lennon Airport, a report says.
The plane, from the Isle of Man, was coming into land at 09:07 BST on 1 June, according to the Air Accident Investigation Branch (AAIB) report.
The co-pilot disengaged the autopilot and turned the aircraft, tracking the bridge while descending, it said.
A cockpit alert sounded and the flight path was adjusted.
The flight crew confirmed it was safe to continue the approach and the plane landed safely.
The aircraft had been descending at a rate of about 2,000ft per minute and the "Caution Obstacle" alert was generated at a radio height of 894ft (272.4m) as it approached runway 27, the report said.
Safety 'a priority'
The Runcorn Bridge is 285ft (87m) over the riverbed and crosses the River Mersey.
The AAIB said the Enhanced Ground Proximity Warning System (EGPWS) was a terrain awareness and alerting system that uses internal terrain, obstacle and airport databases to predict a potential conflict between a flight path and terrain or obstacle.
"The obstacle concerned in this case was not positively identified, but was possibly the Runcorn Bridge," the report said. It was published last month.
A spokeswoman for Flybe said: "Flybe confirms that safety of its passengers and crew is its number one priority."
The event highlighted in the AAIB report was "thoroughly investigated by our own investigators and with correspondence with the AAIB", she added.
Flybe has taken "a number of actions" to further improve safety, said the spokeswoman.