Liverpool Walton MP asks minister find £156m council cuts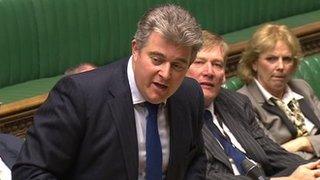 The local government minister has been invited to "look at the books" to see where cuts can be made in Liverpool.
Liverpool Walton MP Steve Rotheram made the offer after Liverpool City Council announced £156m in budget cuts.
In parliament, he addressed MP Brandon Lewis who claimed that "Liverpool gets one of the highest amounts of spending" in the country.
Mayor Joe Anderson argued the city has seen its government funding slashed by more than a half since 2011.
'Stark reality'
Over the last three years, Liverpool City Council has reduced spending on services by £173m.
The council now needs to save £45m in 2014-2015, £63m in 2015-2016 and £48m in 2016-2017.
During a parliamentary debate, local government minister Mr Lewis said: "Liverpool gets one of the highest amounts of spending power per dwelling in the country."
He also told Mr Rotheram the city received "regional growth fund money, it's got growing places funds money and a city deal".
"All of which is helping Liverpool to be the town that it should be," he added.
Mr Rotheram said: "There are no discretionary pots left.
"If the minister and his secretary of state don't believe me, I will offer a first class return ticket to both of the gentleman to come to Liverpool to have a look at the books and tell us where you believe we can cut further."
Speaking later, Liverpool's mayor said the £156m cut needed to be made or the city would not have enough money to pay for mandatory services.
Mr Anderson added that "every single person in Liverpool is going to be affected and every single service will face significant reductions or be withdrawn altogether".
"Instead of issuing patronising statements about improving efficiencies, I would urge ministers to have the courage to take up our offer to come to the city and inspect the books to see the reality of what we are dealing with."
Mr Anderson said: "The stark reality is that we do not receive enough money from other sources, such as council tax, to make up the difference.
"Only 9% of Liverpool's funding comes from council tax - £118m. And yet, we spend £174m on adult social care alone."
Mr Anderson said children's services (current budget of £108m), waste collection (£35m), libraries (£11m), highways (£27m) and others were all going to be affected by the funding from central government.
Liverpool City Council will set out a three-year plan for the cuts next year.